Pop Warner Vet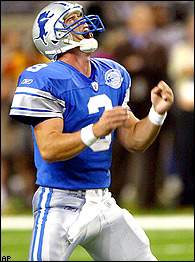 Joined: January 29th, 2006, 12:42 am
Posts: 112
Location: Highland, IN
Get to meet the most Underrated player in the NBA.
Want to know more about your Jazzmen than what happens on the court?
We're digging deep to find out what makes our players & coaches tick.


Immediately preceding a recent practice, Andrei Kirilenko along with a few of his teammates were in a Delta Center room signing posters that would soon hang in young Jazz fans? rooms.

While he is worshipped by many fans nowadays, Kirilenko was asked if he ever idolized anyone as a child growing up in Russia.

?Uh,? Kirilenko pondered as he continued signing.

?Boris Yeltsin!? Jazz center Greg Ostertag quipped as he signed some posters a few feet away.

?Nobody. I never had an idol,? said Kirilenko quietly, as he seemingly ignored Ostertag?s comment. ?Everyone else was growing up watching Michael Jordan and Greg Ostertag.?

?Smart aleck,? chuckled Ostertag.





Not emulating a specific player may be the reason why Kirilenko is so unique. Who knew five years ago when he first entered the league, that he would turn out to be one of the most versatile players the game has ever seen.

?I think he?s great," said New York Knicks guard Jamal Crawford. ?He?s one of the best all around players. He doesn?t really care about one particular stat, he just does whatever it takes to help his team win.?

"Andrei is a unique player, he can affect the game without scoring,? added Jazz assistant coach Scott Layden.

Growing up in Russia, Kirilenko was introduced to the game of basketball at the age of 10, when a coach came into his fourth grade classroom and asked all the tall kids to give the sport a chance.

?I was the only one who tried,? recalls the 6-9 Kirilenko. ?I like it so I keep going. I?m 25 now, so.?

When he was just 15 years old, Kirilenko became the youngest player in history to play in the Russian professional ranks. His play was so remarkable, it became obvious that he was eventually going to play in the NBA. In 1999, the Jazz made the then 18 year old Kirilenko their first round pick (24 overall) in the draft.

Although he was drafted that year, he remained in Russia to play for two more seasons with his team CSKA. During that period, Kirilenko also represented Russia in the 2000 Sydney Olympics. Following the 2000-01 season, where he lead CSKA to a fifth place finish in the European championships, Kirilenko packed his bags and headed to America to finally play for the Jazz.

When he arrived in Salt Lake, Kirilenko found the transition from Russia to Utah was challenging at first.



"The more difficult thing goes outside the basketball, you know, off the court,? said Kirilenko, who still maintains a residence in Moscow. ?Just get used to everything life. Even for the city, you know like driving car. And I think Jazz helps me a lot here, helping with find a house, find a car and everything."

On the court, the adjustment went a lot smoother. Even with Hall of Fame players John Stockton and Karl Malone, the skinny kid from Russia immediately proved he was special.

He played in all 82 games (starting 40 of them) and scored in double figures an amazing 46 times. In his 5 years in the league, he had made the All Rookie First Team, All Defensive Second Team twice, and was named an All Star in 2004.

Kirilenko has career averages of 13.8 points, 6.5 rebounds, 2.5 assists, 1.59 steals, and 2.57 blocks with shooting 46 percent from the field.

With stats and credentials like that, he has become a nightmare for opposing teams and players.

?Honestly, you can?t prepare for someone like that because he?s doing everything,? said Crawford.

As energetic and exciting Kirilenko is on the court, surprisingly, he is quite the opposite off it. He says he just likes to stay home and spend time with his wife Marina and his 4 year old son Fedor, who already exemplifies traits of his famous father.

"He is outgoing, he is active, he remind me of myself,? said a smiling Kirilenko. ?He is trying to be everywhere. He's running, he's screaming, he's playing with dogs."

Outside of family, Kirilenko enjoys playing computer games, specifically strategy games. He doesn?t enjoy TV, but has a passion for traveling. Over the All Star break, Kirilenko took his family on a road trip to Los Angeles, Las Vegas and the Grand Canyon. He wants to soon try to see countries like Japan, Malaysia and Thailand. Occasionally he will hang out with teammates like Mehmet Okur.

"I knew him before I got here, we play each other a lot back home,? said Okur, who is a native of Turkey. ?He's great person, though. Sometimes, we like to get something to eat, hang out, play pool sometimes."

Those who know Kirilenko, know how humble and nice he is. When he is walking through the halls of the Delta Center, he makes sure to say ?hi? to every usher, reporter and employee there.


?My life position is good person first and good friend. It's more important to be a good person than a player,? said Kirilenko.

And it is no different with his teammates and colleagues.

?I think he is a wonderful guy, wonderful person,? said Layden. ?He's a guy who gets along very well with his teammates.?

?He seems like a great teammate,? adds Crawford. ?I never see him try to belittle his teammates, he?s always encouraging them. And that?s why he gets the best out of them.?

In the half-decade he has lived along the Wasatch Front, Kirilenko has grown an appreciation for Utah?s lifestyle and community.

"The most thing I like, is best people live here,? said Kirilenko. ?Believe me I have the experience, because I have traveled a lot in Europe and the world. Salt Lake have the best people, very friendly, very helpful, always smile. You don't want to leave, because everyone treats you good."

People in Utah hope he doesn?t leave anytime soon. They hope the man with a mohawk can stick around and lead the Jazz back to their winning ways, much like what Stockton and Malone did for two decades.

That is a lot of pressure for any young superstar. But Kirilenko doesn?t see it that way. He doesn?t like to think of himself as a savior, or hero, or a superstar. He just views himself as just Andrei.

"I am who I am,? shrugged Kirilenko as he walked out of that Delta Center room. ?My job is just to go out and play."
--Gerald Narciso



_________________


I think Calvin Johnson has too much class to take over Roy's job of giving "1st Down" signals when the Lions are losing by 40.