rev .2 changed 4th round pick to 5th rounder
I will take a two fold approach at creating a draft strategy. First of all, try to read what the front office and coaching is doing, and interpret their priorities. Secondly, I will target players at each pick using Scouts Inc. to determine the feasibility of the pick. I will also provide alternatives at each pick. I will use a offset value +/- of where we pick them, versus their ranking in the top 100. For picks outside of the top 100, I will state their position ranking and use past drafts to determine the number of picks used on a certain position by that point in the draft to gauge the feasibility of the pick.
The Quarterback
Schwartz on the quarterback position. "I think obviously the most important position on the team is quarterback. It's probably time to find a replacement for Bobby Layne. Quarterback is the trump card of all positions in the NFL. If you have a good quarterback, you can cover up a lot of other areas on your team. If you don't have a great quarterback, you have to be really good in a lot of other areas. So I think if you ask anybody in the NFL the most important position, it's going to be quarterback. … People always ask when there's a young quarterback, 'Do you play him right away, or do you let him sit on the bench?' And the answer is: It depends."
Is this an indication that we are drafting Stafford? Who knows. At the time I thought this was a coach going through an interview process using a pretty saavy tactic demonstrating his knowledge of Lions history to endear himself to the media and the fans. Nevertheless, it is apparent that the Quarterback is the most important position in Schwartz's eyes. Although he did preface what he said by first of all saying, "I think the important thing is finding the right person. I don't think you tie yourself in to positions. Obviously there's a lot of needs." So that first overall pick should be fair game.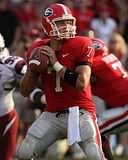 Interestingly, Mayhew and Lewand speak nothing of a QB. And Linehan's comments only pertained to who was on the roster. "I want to speak on behalf of all the quarterbacks here because they all need to have a very fair evaluation because we're all kind of coming in, really, the same," said Linehan. "(It's) kind of a clean slate kind of deal and we're coming in with the idea that everybody's going to have a fair opportunity to be evaluated for potentially playing that spot."
Linehan seems content to work with what we have for now.
Get Bigger and More Physical
Martin Mayhew started out with a vision, even before he hired a coach.
"We're a small football team," said Mayhew. "We might call the right defense and might have a free hitter in the hole and instead of 2nd-and-10 it's 2nd-and-6 because we're not big enough and we're not physical enough. So that's going to be part of our plan." The plan was to get bigger and more physical on both sides of the ball. This is a huge departure from the Tampa Two, which had quicker smaller players. And the Zone Blocking running schemes that required smaller quicker line men. So as the coaching staff was put into place, men were hired who had the same vision. Starting off with Jim Schwartz.
"You build teams to run the football and to stop the run. I know that Ford Field is a great place to play, but I think that when you start a team, particularly in the NFC North, you've got to be built for January football, December football, and you've got to be big and strong and be able to run and stop the run. You're going to play an important game in Green Bay in December, or you're going to play an important game in Chicago in January or in the Meadowlands. I think you need to be built that way."
The very fact that Schwartz mentions 'building' the team that way, shows where the emphasis of those building blocks will be: In the trenches. Linehan mimics that when he says, "I really believe power football has to be a big part of what you do and an initial phase of what you do. It develops toughness as a football team and you say that, but you have to do it. I think our running game will lend to what our personnel can do best."
At the same time, he recognizes that there may be a transition period so he doesn't scrap the zone blocking schemes altogether. "We'll do - not a little bit of both (zone and power running) - but a lot of both. Then we'll have those one, two or three different types of schemes that you may try because of your personnel. I don't want to call it an old fashioned running game, but you're going to see one that's going north and south towards that endzone."
On the defensive side of the ball, Defensive Coordinator Gunther Cunningham also concurs with the importance of the trenches when he said of the back seven, "They can all run. I think the biggest thing is up front, how do they play? You can have players as good as you want in the back end (but) if you can't put pressure on the quarterback, (it doesn't matter). (There is a) size factor, but the front makes those other guys play a lot better, meaning the linebackers and DBs."
With good reason too. Cunningham cites a couple of smallish fast playmakers who will benefit from a stronger line: Cliff Avril and Ernie Sims. "You have to make sure you protect guys like that so they can make plays," says Cunningham. "You have to be able to make some guys that may not measure up physically size-wise make plays that other people that may be bigger can't make. You use a guy, an undersized linebacker, as a blitzer. You have to have the ability to cover them long enough for those blitzers to get there."
Who else can occupy blockers freeing up ends and outside backers to make plays than a big stout defensive tackle?
It seems pretty apparent, that the primary focus of the draft will be in the trenches. Offensive Line and Defensive Line.
Offense or Defense?
In addition to the quarterbacks, Linehan cited a few players who he feels comfortable with. Running Back Kevin Smith, and obviously Wide Receiver Calvin Johnson. Not so obvious, Left Tackle Jeff Backus and Center Dominic Raiola. He also mentions the other bookend RT Gosder Cherilus. That's quite of bit of pieces in place compared to the defense. Remember, Cunningham only had nice things to say about Avril and Sims.
I think this will be a defense oriented draft.
Player Types
Martin Mayhew notes, "I think we have a good core (of) blue-collar, hard-working guys on our team now," he said. "What we need are some impact players and difference-makers. Those are the kinds of the players we need to sign and draft."
Cunningham needs his playmakers as well. "One of the things that I really believe in is to be aggressive and turn the ball over and, we always say, hit you in the face and get after people. (Playing) fast is really important to me and closing on the ball and separating 'ball' from 'the offense' is really important"
It's safe to say that we won't be targeting Tampa Two Players anymore.
"I've gone through three years of playing zone defenses because I was loyal to Herm Edwards," Cunningham said. "That's what he wanted. People here in town knew that I was different than that. My idea is to put a lot of pressure on the quarterback -- always has been, always will be."
How will this be achieved? According to Schwartz, this can be done in two ways. You can blitz like he and Gunther had to do early in their Titans days. But as they were able to provide pressure with just the front four with Haynesworth and Vanden Bosch, that freed up blitzers to cover more.
Formulating the Strategy
It's clear that there are few positions we can rule out, so it's fair game. However, there are positions that clearly need to be filled. With the loss of Bodden, we have a nickel and dime cornerback for our starting secondary. I think the loss of Shaun Rogers was the biggest reason we went 0-16. We no longer had a guy who occupied all the blocks and occasionally wreaked havok crushing the pocket allowing guys like Ernie Sims and Cory Redding to make plays. Our middle line backer position has been a hole for a decade, and with the loss of Boss Bailey, our Strong Side Linebacker went from being at least serviceable to a weakness. Our safeties at the very least are serviceable, but could be upgraded. I think I just went through the entire defense.
On offense, we need bigger stronger guards. Ramirez may be one guy who has at the very least, tools to be a mauler, but we need another one. Coming from Texas Tech, Ramirez is probably a better pass protector, so we can slide him to the left guard. Jeff Backus was cited as a being a good laugh tackle, (haha, pun wasn't intended, but it sure is appropriate), but we can't run to the left with that guy. He was also a pretty bad pass protector. If we can upgrade it, we should do it. Otherwise, let Linehan have him for a year. Tight End is a need, but with the amount of other needs, it's a luxury at this point. On special teams, we need a kick and punt returner. We may need to eventually replace Hanson.
Let's divide them in tiers:
1) Gaping Holes: Cornerback (x2), Defensive Tackle, Middle Linebacker, Right Guard, Kick and Punt Returner
2) Holes: Strong Side Linebacker, Tight End, Left Tackle, Left Guard, Center, Defensive End (Premier Type)
3) Stop Gap: Safety, Quarterback, Fullback, Kicker
4) Serviceable: Weak Side Linebacker, Wide Receiver, Running Back, Punter
The Draft
Name/Position/College/Grade/Offset
The grade is the value Scouts Inc. assigns to the prospect.
Offset (os) is overall rank (or) minus pick number (pn) . or - pn = os
ally the bigger and more positive the number, the more feasible that the player will be available. The more negative, the less likely they'll be there. It also helps to identify which are steals (red) and how much you are reaching (green). Blue means that where we pick matches where they are ranked. PN - OR = Zero (0).
For players outside the top 100, I put their position rank and the number of players that went at that position last year at the spot.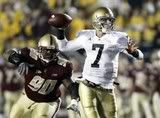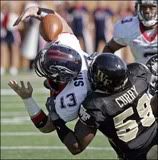 1a (1). BJ Raji DT Boston College 97

+2
The single biggest way we can make an impact on the team is with a dominant defensive tackle. As Cunningham says, protect the rest of the team, and they can make plays. I doubt Haynesworth or Marcus Tubbs will come on board, so the best place to get that guy? No. 1 Pick in the draft. Raji has shot up the charts after he verified he belongs with the elite in the Senior Bowl. He fits all the criteria of a big playmaker.
DraftParty Scouting Video
Aaron Curry OLB Wake Forrest 98

+1


He's the best defensive prospect in the draft. He would probably be most effective on the weak side, although that would render Sims useless. I would not put him in the middle. That would not be utilizing his talents best. He's best rushing off the edge, or lining up against tight ends, and on occasion slot receivers. If they do go with Curry, that means we solved our DT problem in FA, or they can target one with the next couple of picks. DraftParty Scouting Video

Matthew Stafford QB Georgia 97

+2


He's the best quarterback in the draft. He has all the tools needed. And he has that mentality of a franchise quarterback. Nevertheless, as an early entry QB, he's a large risk, who you'd feel a lot better about taking if he had one more year under his belt. Draft Party Scouting Video
1b (20). Michael Oher LT Mississippi 93

0
An opportunity to address the other side of the trenches like this would be like a best case scenario. Flashes brilliance at times, but he's not as polished as the other top three tackles. He does have the highest upside of all. The knock on him is his inconsistency. There is no doubt in my mind that he would beat Backus out for the job. Amazing that a lot of people have him rated here, and it would be an absolute steal if he fell this far.
DraftParty Scouting Video
Vontae Davis CB Illinois 94

-9


I see a lot of mocks having him go to us here. He's the 11th ranked prospect, second best cornerback. He may be the best because there's talk that Malcolm Jenkins may be best suited as a safety. This guy has all the tools to be a shut down corner, but he's deemed undisciplined. To make him fall a whole 9 places off his ranking would mean a lot of people are worried about him. DraftParty Scouting Video

James Laurinaitis ILB Ohio State 92

+5


I'll admit that I don't like this pick. His poor senior year made me sour on him. But he's noted for his instinctiveness and good technique. My personal grade for him wouldn't let me touch him til the end of the 2nd round. If we take any linebacker here, I would rather have one of the USC linebackers. DraftParty Scouting Video

Peria Jerry DT Mississippi 92

+6

DraftParty Vid
Rey Maualuga ILB USC 94

-5

DraftParty Vid
Tyson Jackson DE LSU 93

-1

DraftParty Vid
DJ Moore CB Vanderbilt 92

+2

DraftParty Vid
Brian Cushing OLB USC 93

-3

DraftParty Vid
Clay Matthews OLB USC 92

+3

vid
Brian Orakpo DE Texas 94

-4

DraftParty Vid

2 (33). Sean Smith CB Utah 89

0
He's quickly becoming my favorite cornerback prospect. He fits the bill of bigger, measuring nearly 6'-3" and weighing 212 pounds. But his production was off the charts. Notably his 5 interceptions for 151 yards. You might argue that he didn't have tough competition, but he did lock down one of the SEC's biggest and best recievers, Alabama's Julio Jones in their BCS game. And if I that doesn't sell you on him, here's a sample of one of the many
amazing things he can do.

Clint Sintim OLB Virginia 88

+2


Has prototypical size for the position. DraftParty Vid

Josh Freeman QB Kansas State 90

-2


He's been compared to Joe Flacco, but not as good a decision maker. DraftParty Vid

Ron Brace DT Boston College 87

+6

DraftParty Vid
Alex Mack C California 90

-1

DraftParty Vid
Louis Delmas S Western Michigan 89

+1

DraftParty Vid
Paul Kruger DE Utah 88

+5


Ebon Britton OT Arizona

+10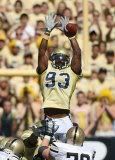 3a (65). Michael Johnson DE Georgia Tech 84

-19
Obviously it's a stretch to think that he can fall to our third round pick. However, he's rated right smack dab in the middle of the 2nd round. The only rationale I can think of is that he is the 7th rated Defensive End. Do I see seven DE's going in the first two rounds? Not likely. What is more likely is that someone take him sooner than he's rated, and with good reason. He has the frame and athleticism of Julius Peppers and Mario Williams at 6'-7". He falls because he does not have their weight or the production. I think it would be worthwhile to trade up to get him in the second round. People will see his jaw dropping game versus Georgia, his ability to bat passes and block kicks and he will blow people away at the combine. So there's a possibility that someone may even nab him in the first round. But I would absolutely love to bring in another Tall Athletic Johnson from Georgia Tech. The other one we got has been very good for us.
DraftParty Vid

Duke Robinson LG Oklahoma 76

+3


Top rated Guard slots nicely with our first third round pick. DraftParty Vid

David Veikune OLB Hawaii 77

+1


I watched him personally, and he played Defensive End for us. So I assume they're projecting him to be an OLB in a 3-4. But I know from firsthand experience and watching him, that he's cut from the same cloth as Maualuga. He's agressive and flys all over the place. Jumps out on the tape everytime. It would be like duplicating Avril though.

Victor "Macho" Harris CB Virginia Tech 76

+2


Very aggressive corner, who is not afraid of throwing his body around. Has that cocky mentality required for the position. DraftParty Vid

Fili Moala DT USC 78

-3

5 technique tackle in the mold of Haloti Ngata DraftParty Vid
Kevin Ellison S USC 78

-2

Big Hit
Phil Loadholdt OT Oklahoma 81

-10

DraftParty Vid
Max Unger C Oregon 80

-9

DraftParty Vid
Captain Munnerlyn CB South Carolina 76

+4

Picks off UK Woodson
Cody Brown OLB Connecticut 76

+5


Andrew Levitre OG Oregon State 75

+7

ALevitre Vid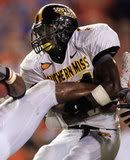 3b (85). Gerald McRath ILB Southern Miss 69

+10
He is the third rated middle linebacker behind Maualuga and Lauranaitis, but the drop off is huge because he's undersized at 220 pounds with average speed. What he is though is an instinctive tackling machine. He's got the height at 6'-3" and if he can put on 25 to 30 pounds without turning into a slug, he can become a solid starter. May have to reach because of the low supply of quality ILB's.
Chip Vaughan S Wake Forrest 73

-4


Has prototypical size with adequate range. Decent production. Not a playmaker in coverage.

Nic Harris OLB Oklahoma 71

+2


Will be a tweener. Played safety in college but is to slow to play that position at the next level. Projected as an outside linebacker. Horse Collar

Alex Magee DT Purdue 73

-6


Natural athelete that needs to add bulk. Quicker than stout. Good pass rusher. His production doesn't match his tools.

Tyronne Green RG Auburn 70

+3

Better for zone blocking DraftParty Vid
Pat White WR West Virginia 72

0

Stubborn about QB, maybe good for wildcat
Mohamed Massaquoi WR Georgia 70

+4


Jonathan Luigs C Arkansas 72

-1

Third ranked Center
Andre Brown RB NCState 70

+6

Big back who plays small
5 (129). Don Carey CB Norfolk St 50 rank 22nd 08-22
Good production from small school corner with good size and speed. Good recovery speed. East West Shrine standout.
Scott McKillop ILB Pitt 65 rank 5th 08-5 Outstanding college player, limited upside as pro because of marginal athleticism, but has intangibles to be a solid starter Vid
Arian Foster RB Tennessee 60 rank 12th 08-12 Injuries derailed senior season, but has tools and potential to be a feature back, could be steal Vid
Dorell Scott DT Clemson 54 rank 14th 08-9 Big slow space eater
Tim Jamison DE Michigan DE 53 rank 15th 08-15 Room to grow on frame, marginal speed, shows good instincts
Tyrone Mckenzie OLB South Florida 63 rank 11th 08-8 Strong leader, instinctive playmaker in space Fumble Forcing Hit
John Phillips TE Virginia 62 ranked 9th 08-9 Average pass catcher, above average blocker, not a deep threat
Demetrius Byrd WR LSU 62 ranked 19th 08-20 Vid
Rhett Bomar QB Sam Houston St 64 rank 5th 08-5
6a (161) Herman Johnson OG LSU 61 rank 7th 08-8
By this time last year, 8 Guards went off the board. Herman is the 7th best this year. People worry about his weight problems and his slow speed. However the film shows him being the primary hole maker, making the key blocks that spring running backs.
DraftParty Vid
Coye Francies CB San Jose State 58 rank 17th 08-26
Excellent prospect, with exceptional tools, size and speed, questionable character. If he can answer questions about character, he can be bonafide starter.

Ramon Foster OG Tennessee 59 rank 8th 08-8 Bulky guard, but top heavy
Jasper Brinkley ILB South Carolina 59 rank 8th 08-5 Prototype size, with adequate speed, good instincts, hard hitter, had bad injuryVid Destroys Tebow
Pannel Egboh DE Standord 51 rank 16th 08-15 Excellent size, frame and athleticism but Raw, like IAF.
Quan Cosby WR Texas 59 08-22nd McCoy's favorite target, on the old side
Alexander Boone OT Ohio State 56 rank 13th 08-14 Mammoth Tackle with serious character issues DraftParty Vid
Curtis Taylor S LSU 59 rank 10th 08-7 Prototype size and speed, but production didn't match tools
6b (181)Sammie Stroughter WR Oregon State 57 rank 23rd 08-24th
Sammie Stroughter is an undersized receiver who has game breaking ability in the return game.
Returning Punts
David Bruton S Notre Dame 57 ranked 11th 08-10
Excellent athelete good tackler, could one day develop into starter

Adam Leonard OLB Hawaii NR ranked NR 08-14
My sleeper. Injuries made him fall off the radar, but I know that he was on pace to be the next solid NFL starter from Hawaii in the mold of Pisa Tinoisamoa and Jeff Ulbrich

Aaron Brown RB TCU 52 ranked 16th 08-17 - Change of pace scatback, possible returner
Jason Watkins OT Florida 47 ranked 15th 08-15
Greg Isdaner OG Vest Virginia 56 ranked 9th 08-8 Pat White protector
Cedric Dockery OG Texas 52 ranked 11th Colt McCoy's blind side protector
Sammie Lee Hill DT Stillman 46 ranked 17th 08-15 Huge DT, Small School, big production
Rulon Davis DE California 42 ranked 20th 08-17 Prototype size, good produciton, on the old side, excellent character ronenlish1 vid
Mortty Ivy OLB West Virginia 59 ranked 14th 08-14 Good athelete undersized overachiever
Ryan Palmer CB Texas 54 ranked 20 08-ranked 26th nickel? returner Int off tip
Morgan Trent CB Michigan 55 ranked 19th 08-26 Big corner, decent speed, production not in line with tools
Louis Sakoda K Utah 44 ranked 1st 08-1 Possible Hanson successor
Solomon Elimimian OLB Hawaii 30 ranked 25th 08-14 Scouts Project him outside because he's small, but I know he played inside, and was a tackling machine who plays better between the tackles. minesone808 video

Summary
When I made this draft, it assumed a lot of things. For example it assumes the worst case scenario where we don't fill any needs in free agency. Obviously, FA will clarify the draft, and will change the strategy. Compensation picks have yet to be awarded. Under Millen, a lot of wheeling and dealing occured in the mid to late rounds. We have yet to see if Mayhew is the type to stand pat or will he try to make some draft day trades. I also assumed that QB will be deferred to next year, utilizing the Stanton/Kitna/Culpepper/maybe Orlovsky combination as a stop gap for now. If we get 4 to 6 wins next year, we should be in good position to take a Senior Franchise QB in the 2010 draft. Finally, we haven't had the combine or pro days, and that will change the player rankings, and clarify where the prospects stand. When that information comes to light, this long draft strategy exercise will bear revising.
If I get my first choices
1a. BJ Raji DT Boston College
1b. Michael Oher OT Ole Miss
2. Sean Smith CB Utah
3a. Michael Johnson DE Georgia Tech
3b. Gerald McRath ILB Southern Miss
5. Don Carey CB Norfolk State
6a. Herman Johnson OG LSU
6b. Sammie Sloughter
Then it primarily addresses both sides of the lines: two sizeable Olinemen. Oher and Johnson; A pocket crusher DT Raji and a guy you can groom to be a Premier DE Michael Johnson. If need be, I'm willing to trade 3a, 5 and even a future pick to move up several spots into the second round for Johnson. McRath plugs the middle, and we get a returner. Smith can jump in and start at corner. Don Carey is a guy who'll need some grooming. The gaping holes are addressed, and half of the other holes are filled. It leaves us with deficiencies at Tight End, Center and Strong Side Linebacker. We can address those the next year along with the stop gaps: primarily Safety and Quarterback.