RIP Killer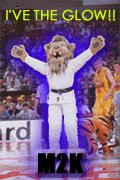 Joined: October 20th, 2004, 4:16 pm
Posts: 10408
Location: Where ever I'm at now
Signing Rookies in 2005 could be tough
Signing rookies may be tricky this year


By Pat Kirwan
National Editor, NFL.com


(May 10, 2005) -- The collective bargaining agreement (CBA) is up for an extension and I have very little doubt that the extension will happen. If it happens in time to negotiate and sign the 2005 draft picks is another story.

Last year, for example, a rookie contract with a big signing bonus could be spread out over six years for salary-cap management purposes. If a player received a $6 million signing bonus and signed a six-year contract, you simply divided the years into the bonus to determine the cap charge -- $1 million of cap space per year for the $6 million dollar bonus. That is not the case this year, which can be problematic for cap management.

This year, no matter what the bonus is, the most you can spread it out over is five years. If you take the same $6 million bonus you gave out last year to a first-round pick and divide it by five, the cap charge is $1.2 million a year. So what's the big deal about an extra $200,000 of cap space? Well, let's take a look at the impact for a team's entire draft class.

To be fair, second-day draft picks usually sign shorter deals and it has no effect on them, but the shorter amortization period can impact the first three rounds, where the real money is spent any way.

Let's use the 2004 Oakland Raiders rookie contracts for the first three rounds:
All three of their picks (Robert Gallery, Jake Grove and Stuart Schweigert) received six-year contracts. Their combined signing bonus equaled $11.37 million. The Raiders are paying off that bonus money at a rate of $1.89 million a year. If they gave the same amount of bonus money out this season, it would be a $2.27 million cap hit. An extra $380,000 against the cap is starting to be significant and it gets more stressful. Let's assume the rookie contracts go up five percent, which is about the normal growth, although it could be more. All of sudden, teams could be hit for close to an extra $500,000 of cap space to sign the rookies. That is the price of one decent player on your roster.

Of course, teams are discussing ways to work around the extra cap charges by giving some option bonus money in the second year and less signing bonus in the first year. Many teams will still want to get players signed to six-year deals and suffer the lack of ability to spread out signing bonus.

Finally, it is important to point out if the CBA were not to be extended, then players who finished four years and expected to become unrestricted free agents looking for a huge pay day would find out that in uncapped years, they would not be unrestricted free agents after four years. In uncapped years, players need five years minimum to gain free agency. There are reasons for both sides to work diligently to get the extension done.



_________________


I will not put on blinders when it comes to our QBs performances.
RIP Killer

Joined: August 6th, 2004, 9:21 am
Posts: 10041
Location: Dallas
The article didn't lay out the issue well IMO. The CBA essentially runs through 2006, meaning 2007 and beyond are "uncapped" years right now. The Deon Sanders rule states that in a contract that extends into an uncapped year (2007), the player's combined salary, roster bonuses and reporting bonuses in all capped years must be equal to or greater than the combined prorated signing bonus allocations in the capped years.

This is the reason the signing bonuses will be tricky. Essentially, we have 2 years (2005 & 2006) in which the players salary and bonuses must be = to or greater than the remaining years. A 4 year contract really wouldn't be a problem, 5 and 6 year deals will be tough to structure with the final 3 to 4 years having to be worth less than the first two years of the contract.

Even high picks usually have low salaries the first few years of their contract, they make their $ off the signing bonus and other clauses. Teams may have to sign players to higher salaries in the first few years to compensate for the inability to spread out the bonuses effectively. It will be interesting to see how teams tackle this problem.
_________________
LB Tweet