---
TheRealWags asked the following question in another thread a while back and never got an answer from anyone. I have been considering an answer since he asked it though. Here is the question:



Quote:

For all my religious brothers here on current events:

How do you feel about the events occurring in the Middle East today? Egypt, Jordan, Sudan, Tunisia are all in disarray and could be experiencing big changes in their govts. How, if any way, do these events relate to your "end times" prophecies? Has another "seal" been broken? Could these events mark the "beginning of the end" in your religion's views?



I will not give a date, unlike Harold Camping. But, we can know the season. Also, DO NOT confuse this with Armagedon. This is not Armagedon. Most bible scholars believe this war will take place shortly before the rapture of the church. This attack will usher in the rise of the Anti-Christ who will then sign a 7 year peace treaty with Israel ( Biblicaly known as the covenant with death.) The moment the treaty is signed starts the clock on the final 7 years of world history.

Please take the time to read the following scripture and after I explain it, I will show you the time frame we should be looking at.



Quote:

Ezekiel 38

1 The word of the LORD came to me: 2 "Son of man, set your face toward Gog, of the land of Magog, the chief prince of Meshech and Tubal, and prophesy against him 3 and say, Thus says the Lord GOD: Behold, I am against you, O Gog, chief prince of Meshech and Tubal; 4 and I will turn you about, and put hooks into your jaws, and I will bring you forth, and all your army, horses and horsemen, all of them clothed in full armor, a great company, all of them with buckler and shield, wielding swords; 5 Persia, Cush, and Put are with them, all of them with shield and helmet; 6 Gomer and all his hordes; Beth-togar'mah from the uttermost parts of the north with all his hordes--many peoples are with you. 7 "Be ready and keep ready, you and all the hosts that are assembled about you, and be a guard for them. 8 After many days you will be mustered; in the latter years you will go against the land that is restored from war, the land where people were gathered from many nations upon the mountains of Israel, which had been a continual waste; its people were brought out from the nations and now dwell securely, all of them. 9 You will advance, coming on like a storm, you will be like a cloud covering the land you and all your hordes, and many peoples with you. 10 "Thus says the Lord GOD: On that day thoughts will come into your mind, and you will devise an evil scheme 11 and say, 'I will go up against the land of unwalled villages; I will fall upon the quiet people who dwell securely, all of them dwelling without walls, and having no bars or gates'; 12 to seize spoil and carry off plunder; to assail the waste places which are now inhabited, and the people who were gathered from the nations, who have gotten cattle and goods, who dwell at the center of the earth. 13 Sheba and Dedan and the merchants of Tarshish and all its villages will say to you, 'Have you come to seize spoil? Have you assembled your hosts to carry off plunder, to carry away silver and gold, to take away cattle and goods, to seize great spoil?' 14 "Therefore, son of man, prophesy, and say to Gog, Thus says the Lord GOD: On that day when my people Israel are dwelling securely, you will bestir yourself 15 and come from your place out of the uttermost parts of the north, you and many peoples with you, all of them riding on horses, a great host, a mighty army; 16 you will come up against my people Israel, like a cloud covering the land. In the latter days I will bring you against my land, that the nations may know me, when through you, O Gog, I vindicate my holiness before their eyes. 17 "Thus says the Lord GOD: Are you he of whom I spoke in former days by my servants the prophets of Israel, who in those days prophesied for years that I would bring you against them? 18 But on that day, when Gog shall come against the land of Israel, says the Lord GOD, my wrath will be roused. 19 For in my jealousy and in my blazing wrath I declare, On that day there shall be a great shaking in the land of Israel; 20 the fish of the sea, and the birds of the air, and the beasts of the field, and all creeping things that creep on the ground, and all the men that are upon the face of the earth, shall quake at my presence, and the mountains shall be thrown down, and the cliffs shall fall, and every wall shall tumble to the ground. 21 I will summon every kind of terror against Gog, says the Lord GOD; every man's sword will be against his brother. 22 With pestilence and bloodshed I will enter into judgment with him; and I will rain upon him and his hordes and the many peoples that are with him, torrential rains and hailstones, fire and brimstone. 23 So I will show my greatness and my holiness and make myself known in the eyes of many nations. Then they will know that I am the LORD.



In short, the following nations, will attack Israel all at once, with every ounce of military force they have. No nation will come to Israel's defense. And GOD himself will step in and defend Israel. Not 1 Israeli will die in this attack. But, the attacking armies will be totally and utterly destroyed to the point that their nations cease to exist.

Here is a website with the invasion laid out on a map. It has the ancient names of the nations and the current names. ( However, I think they have Gomer wrong - I have always been taught that Gomer is Germany and France. )

ANCIENT NAMES OF MODERN NATIONS
ANCIENT NAME MODERN NATION
Rosh (ancient Sarmatians known as Rashu,Rasapu,Ros and Rus) RUSSIA
Magog (ancient Scythians) Central Asia (Islamic southern republics of the former Soviet Union with a population of 60 million Muslims)
Meshech (ancient Muschki and Musku in Cilicia and Cappadocia) Turkey
Tubal (ancient Tubalu in Cappadocia) Turkey
Persia (name changed to Iran in 1935) Iran
Ethiopia (ancient Cush,south of Egypt) Sudan
Libya (ancient Put,west of Egypt) Libya
Gomer (ancient Cimmerians from seventh century to first century B.C. in central/western Anatolia Turkey
Beth-Togarmah (Tilgarimmu between ancien Carchemish and Haran) Turkey

Here is a little more information of where these nations originated from.


Quote:


Genesis 10

1 Now these are the generations of the sons of Noah, Shem, Ham, and Japheth: and unto them were sons born after the flood. 2 The sons of Japheth; Gomer, and Magog, and Madai, and Javan, and Tubal, and Meshech, and Tiras. 3 And the sons of Gomer; Ashkenaz, and Riphath, and Togarmah. 4 And the sons of Javan; Elishah, and Tarshish, Kittim, and Dodanim. 5 By these were the isles of the Gentiles divided in their lands; every one after his tongue, after their families, in their nations. 6 And the sons of Ham; Cush, and Mizraim, and Phut, and Canaan. 7 And the sons of Cush; Seba, and Havilah, and Sabtah, and Raamah, and Sabtechah: and the sons of Raamah; Sheba, and Dedan. 8 And Cush begat Nimrod:



http://rr-bb.com/showthread.php?56979-Chart-of-Nations-to-invade-Israel-and-Map-of-Invasion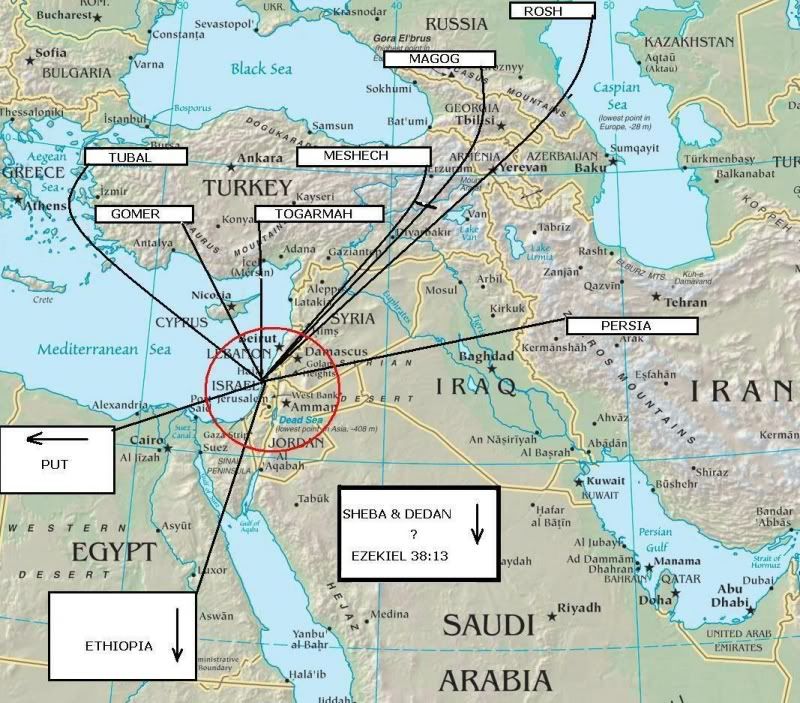 When can we expect this to take place?



Quote:

Mathew 24:
32 Now learn a parable of the fig tree; When his branch is yet tender, and putteth forth leaves, ye know that summer is nigh: 33 So likewise ye, when ye shall see all these things, know that it is near, even at the doors. 34 Verily I say unto you, This generation shall not pass, till all these things be fulfilled.



In the parable, Israel is the fig tree. It's branch yet tender means that it is still young as a nation since it ,Putteth forth leaves, ( Came to be under it's own authority. ). The Generation that saw this was the World War 2 generation when, on May 28, 1948, Israel became it's own nation after nearly 2000 years of not being a nation.

There not very many left from the WW2 generation. It's going to happen soon. When you see this attack happen, Remember this thread. And see that it was prophesied to happen almost 4000 years ago. The Parable of the fig tree tells you when the season that it will happen is. And then realize the bible is right and GOD is real. And drop to your knees if you aren't saved, and pray for your salvation. You won't want to be left behind to face what comes next. We are coming down to hammer time folks. I think GOD set up the war of Gog and Magog to serve as 1 last warning to the unsaved. So, that many would believe in him and receive salvation just before the rapture. Let it be so.