QB Coach - Brian Callahan

Joined: September 13th, 2007, 12:43 pm
Posts: 3121
Re: debt clock.
There have almost always been reserve currencies. Ancient Rome's currency was the reserve currency of its day, as was the UK's pound 150 years ago. Traditionally, the empire of the day's currency is the reserve currency.

A reserve currency is the de facto king of the castle. I can take some U.S. dollars and go to a restaurant in Bangladesh and pay my tab with it. If I tried to pay the tab with Mexican Pesos? No way.

Currencies all have different values based on people's collective confidence in them. People have the most confidence in the U.S. dollar, because of our tremendous power as a country. This is partly good, partly bad.

Think about it like this: Say you are a rich man in a small town. You pay for everything you buy with checks. People know that you are rich and that your checks always clear. In fact, you build up a massive reputation, and people become so confident in your finances that they stop cashing your checks. In fact, instead of using money, they just use your checks. It would be a waste of time going to bank for them, everyone knows they would clear, so why not just save the time and exchange the checks between other people in the town?

You get wind of this, and at first you're flattered. You maintain your good finances for a while. But then, one day, you get a little greedy, and decide to write more checks than what's in your account. You know people don't cash the checks, so what's the problem with writing just a few more dollars than what's actually in your bank account?

No one notices. So eventually, you become overly confident. You begin to believe that people will never cash your checks no matter what, so who cares what you spend? You start writing more and more outstanding checks, and soon the amount of money you owe in outstanding checks far exceeds the amount of money in your checking account.

But you're okay, for a while, because no one notices. (In fact, if someone noticed, they'd be afraid to cash the checks, for fear of triggering a collapse of the system.) But eventually someone starts cashing your checks they're holding. Other people get wind of this and start cashing theirs. Soon, rumors spread that you don't have enough in your bank account to cover the checks, and everyone rushes to the bank to cash them.

Finally, your bank account is empty, but there are still outstanding checks. Those checks? They become worthless.

This story is what happens to reserve currencies. Its happening to us right now, and has been taking place over the past 50 years. We're at the point where people realize we don't have the money to cover our outstanding checks, but everyone is too afraid to cash them for fear of collapsing the system. Eventually, however, someone will call the bluff. There will be a run on the dollar and it will collapse.

Having a reserve currency is a blessing and a curse. Its a blessing because you get to live much more lavishly than you otherwise deserve, as our society has since about 1950 until today. Its a curse, because it breeds laziness and rots the system from the inside out. When the run on the dollar occurs, expect the price of gasoline to double, triple, quadruple or more in a matter of months. Ditto for everything you buy at Wal-mart. Look around your house, everything that says "Made in X" (where X is a place outside of the United States) is going to become much, much more expensive. That's going to be a very painful transition for all of us.
Def. Coordinator – Teryl Austin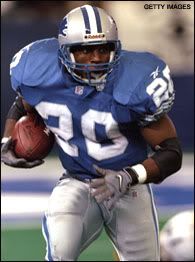 Joined: March 30th, 2006, 12:48 am
Posts: 4214
Location: Davison Mi
Re: debt clock.
well thats not as ineveitable as you make it sound though. I will admit we are frighteningly close, but it is more than possible that the dollar can be stabalized and we can at least postpone that. My belief in that is why i have become more concerned with our debt to china latly. I see an upswing starting. Things are stating to wake up around us financially speaking...it's moving at a crawls pace, but things do apear to be looking better.

Sad part is that I believe you and think that ULTIMATLY we will see what you are talking about...I just think we still have a chance to postpone it at least another 20-30 years...IF we the consumers continue to let the economy grows and IF Uncle Sam starts to pinch some friggen pennies themselves..that'll truely determine how soon the collapse will happen.



_________________


2013 Lionbacker Fantasy Football Champion
QB Coach - Brian Callahan

Joined: September 13th, 2007, 12:43 pm
Posts: 3121
Re: debt clock.
You're right. The world called our bet in the 70s and we pushed it off, until now. I suppose we could find religion, but I really don't see it happening.