ST Coordinator – Joe Marciano

Joined: March 22nd, 2005, 8:42 pm
Posts: 3811
I liked Bly's insight here:

"On the concerns of lining up against the Lions? receivers: ?They can beat you on underneath routes. A lot of times, they like to use shorter guys for the underneath routes, because they can create separation, but when you have physical guys with speed, the hardest route to cover for a cornerback against a bigger guy is the underneath route, because they can use their body as leverage and body you out to catch the football. I mean that?s one thing that Terrell Owens has been able to do throughout his career, he?s the motion guy, the move guy, I mean he goes underneath just as well as he goes deep. We have that in three guys, so it can get scary because with all of them out there at the same time, you can have one going underneath, one going deep, it?s like pick your poison, whichever one you want he can throw to. Once we get Charles completely healthy, he is healthy, but get him full go, it?s going to be a scary look for the defenses, I?m excited. I think we?re going in the right direction, we have an excellent running game with the backs that we have, and the competition is high out there. Guys are ready to compete. We?re looking forward to the season.?



_________________


Far and away from the sound and the fury. . .
RIP Killer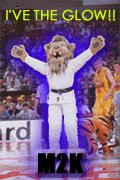 Joined: October 20th, 2004, 4:16 pm
Posts: 10408
Location: Where ever I'm at now
Yorick wrote:
I think DeMulling might be a significant improvement as a pass blocker. He would not have to be more than average to be a "significant" upgrade. Last year the left side was a mess with Backus' injury problems and Raiola's inconsistency. Even with these receivers Harrington will need some time. Maybe the right tackle will be the question spot?
I agree with that. Kelly Butler is supposed to have the inside track on the starting job from what I've read. Let's hope he can limit the rookie (I still refer to him as that since he was inactive for every game last year) mistakes and do a better job than Stockar.



_________________


I will not put on blinders when it comes to our QBs performances.