Detroit Lions Safety Louis Delmas Appeases Teammate, Gets Rid Of 6-Foot Pet Alligator
Anyone who's lived with a roommate knows you need to make concessions when welcoming someone into your home.
Sometimes that means not playing music loudly late at night. Or remembering to put the toilet seat down. Or getting rid of your 5-year-old, 6-foot-long alligator.
For Detroit Lions safety Louis Delmas, the latter was the case when new teammate and old friend Kevin Ogletree recently moved in. The two have known each other since 2006, when they faced off in college -- Delmas at Western Michigan and Ogletree at Virginia. So it was natural for Ogletree, who recently signed with the Lions, to move in with Delmas upon arriving in Detroit.
But before shacking up with Delmas, Ogletree had one request -- lose the gator.
Five years ago Delmas was given an alligator egg from former Detroit Lions linebacker Ernie Sims. Delmas, who grew up in South Florida, has always had an affinity for gators. He housed his new pet, named Mojo, in a 36-foot tank in his basement and would feed it two giant rats every day. It's unclear whether Delmas gave his extra rats to teammate DeAndre Levy.
Amazingly, Delmas says he felt completely comfortable with an enormous gator living in his house.
"Mine wasn't that aggressive with me, I guess from it knowing my scent," he told the Mount Pleasant Morning Sun. "It never attacked me at all I mean, of course it would snap, but it never tried to attack me. Now everybody else couldn't come close to the tank. The minute somebody else came downstairs he'd be buzzing at the tank.''
Here's a photo of Delmas and Mojo: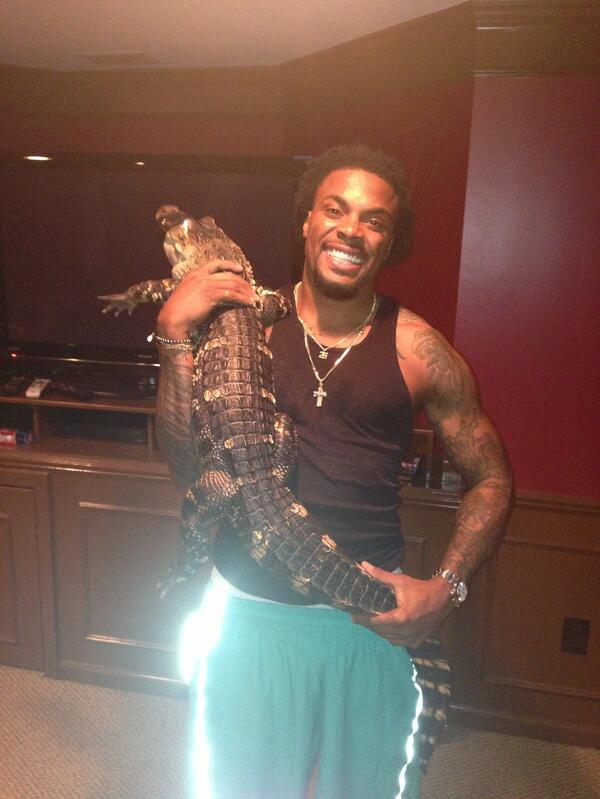 Eventually, Mojo grew to 6 feet and became too big for Delmas' basement. So when Ogletree, who grew up in New York City and was not as comfortable around wildlife as Delmas, moved in, Delmas was already thinking about options for Mojo.
It's a shame, because the idea of two NFL players living together with a alligator in their basement sounds like a good idea for a sitcom.
"I wish he would have come down there and put his hand in there," Delmas said. "He'll be all right. He's Ogletree. He'll catch with one hand."
Reluctantly, Delmas gave Mojo to the Allen Park Critter Shop and is reportedly thinking about donating it to the Detroit Zoo.