Megatron

Joined: December 31st, 2004, 9:55 am
Posts: 12534
Highlight Reel
Also for anyone that may be interested........

Friday, January 14, 2005

Killer WDFN notes: Lions interested in Drew Brees
If you missed, or can't listen to Kowalski's Friday interview with Jamie and Brady from Sports Radio 1130 Detroit, here are today's juicy notes. Killer had a day off to reflect, gather some more info, and he's back to talk about his story.


- The more Mooch talks about the Harrington issue ? in his Jim Rome interview, for instance, the more convoluted it becomes
- Doesn?t help the Lions try to trade Harrington ? if that?s what they?re attempting, other people may think why trade if they are going to cut him?
- Sherm Lewis possibly wrote a report, his sources said ?letter?. It?s just semantics. His source tells him that the Fords read it. Kowalski is trying to secure an interview with Lewis, and continues to chase the story.
- In the last month of the season, Killer was talking to Joey in the lockerroom and Harrington said out of the blue, ?So, do you think I?ll still be here next year?? He kind of smiled and said ?We?ll see.? He knows what?s going on. If the Lions could somehow package him in a deal to Seattle for Hasselbeck, he?d be all for it.
- Lions don?t want to restructure Harrington?s contract so they don?t push money into later years in case they decide to cut him. They can absorb the current cap hit.
- The Lions are interested in exploring possibly acquiring Drew Brees. If he?s franchised they?d have to trade for him. If not, it?s a bidding war. He wouldn?t be brought in as a backup. He?d be a starter.
- QB Coach Greg Olson has a history with Brees when both were at Purdue. Olson is a candidate for offensive coordinator.
- If acquired, Jon Kitna would be a backup
- If acquired, Jay Feedler would be a backup
- Jeff Garcia is old. Not a good fit, as people think it would be
- Kurt Warner would be a backup
- Hasselbeck ? Killer has no idea, he hasn?t heard anything about him yet
- In free agency, the Lion are looking for offensive linemen, backup quarterback, and a number 3 receiver
- In the draft, they will look for offensive lineman and safeties
- Killer thinks they should experiment with some of their own players at safety
- As much as he?s a Harrington guy, Millen would move any player to get another one that would improve the team -- if it could be done with the cap
- Jammer (the other player the Lions considered for the #3 pick) had a slow start but has done well as of late
- Killer likes Minnesota to beat the Eagles, and Indy to beat New England, Pittsburgh to beat the Jets


Thanks to Jeff Cottrell for the notes.
_________________
Quote:
Detroit vs. Everybody
Clowns to the left of me, Jokers to the right....
Site Admin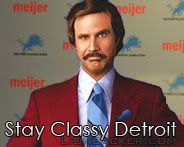 Joined: August 6th, 2004, 1:25 am
Posts: 4920
Location: Hills of Auburn
Thanks Wags...good stuff



_________________




Regards, Alpha|Lionbacker.com \(^o^)/


"I date this girl for two years and then the nagging starts: I wanna know your name..." - Mike Binder
Millen Draft Pick - Epic Bust

Joined: September 9th, 2004, 12:13 pm
Posts: 717
Location: Woodbridge, Virginia
good read